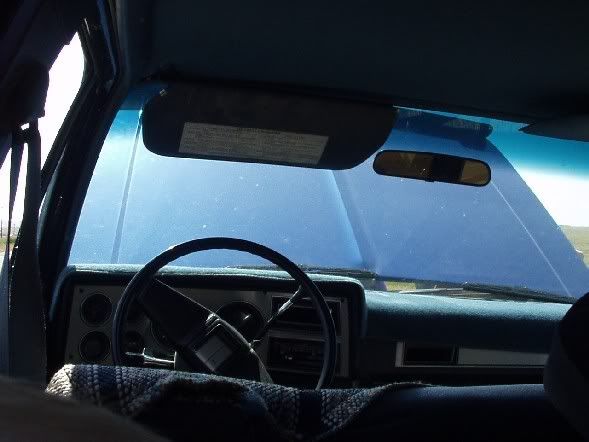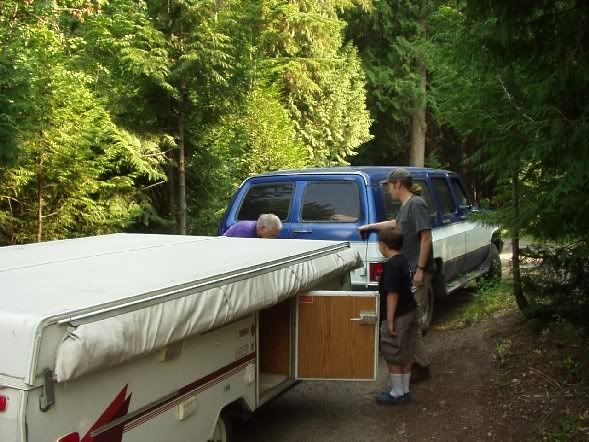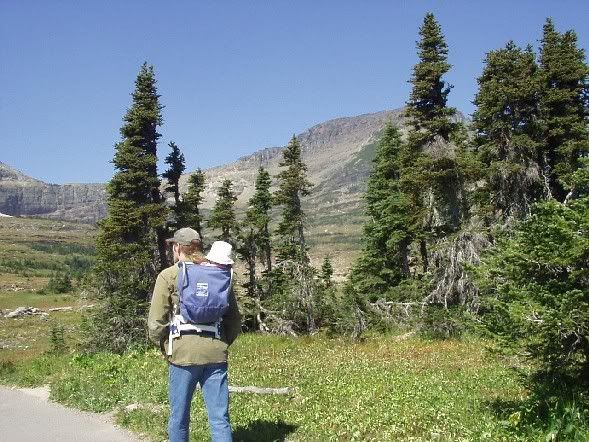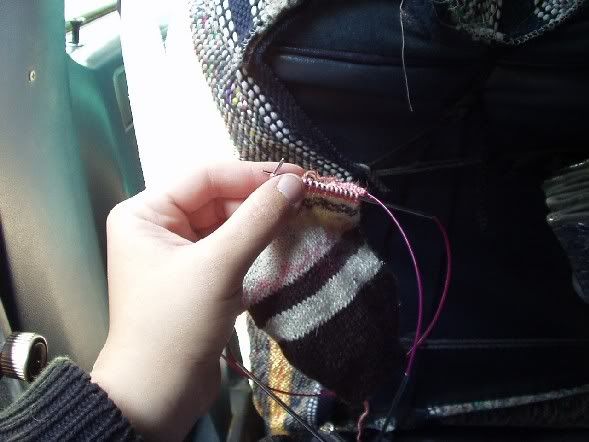 Our trip to Glacier National Park was eventful yet restorative at the same time. Left Helena just before 9am on the 13th. The '87 Suburban over-heated just past Browning so we played MAD LIBS and read aloud a few chapters of Harry Potter II for an hour until the truck cooled down. Lots of smoke from wild fires until we got up in the mountains at the park.
The guys set up the camper, we ate dinner and went to Lake McDonald Lodge for an evening ranger program on night noises, and my boy braved the cold water at the lake - only ankle deep. Over night we were able to identify 2 owls and (luckily) no bears. Tuesday we went up Going to the Sun Road, hiked the trail at Logan Pass.
I worked a bit on a sock while riding in the truck, though I was more engaged with the view. Our last day there we hiked the trail by McDonald Falls, the guys went down to the water to throw rocks while I nursed the baby. We took the west route back to Helena after encountering a lot of construction to the east of Glacier. We stopped for lunch in Kalispell after ribbing Martin while we passed Martin City (cheap thrills, I know) and ogling at that Hungry Horse now has a stop light. The guys pointed out the Assembly of God camp as well, then the quilting store in Kalispell but they didn't let me stop in.
We were 7 miles from I-90 when 93 was closed due to the fires being too close to the road. After waiting an hour at the gas station, the road was reopened long enough for us to get through to the interstate. The photo doesn't show it, but the line of fire was glowing and quite close to the road and houses. Dinner in Deer Lodge at the A&W, the guys gave a quick tour of the town and their old houses. Back home in time to start laundry and get organized to repack for our trip home.
Our three week visit was very intense, it seemed all too short especially with the loss of Mama. It hit me again hard when I arrived home that I could no longer call her up any time I wanted and talk until the cell phone battery died. I want to fit in more here, but I'm now in the middle of moving (we're only moving a mile down the street) and the stress level has increased about 3 points. I have many wonderful things from Valerie to share, she had many amazing talents and interests but that warrants it's own post.