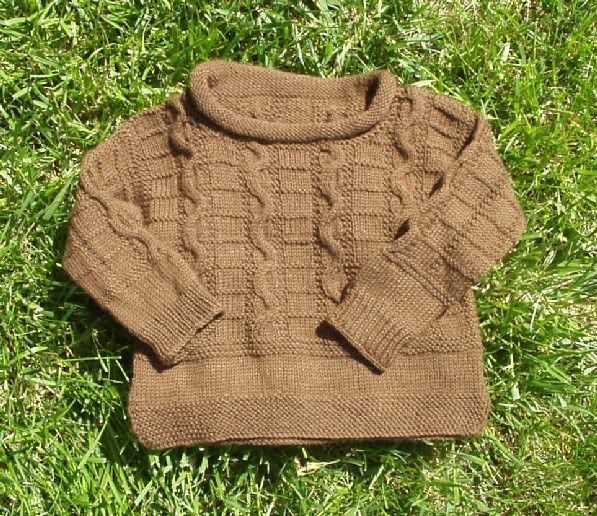 I finished the Snakes and Ladders gansey from
Beth Brown-Reinsel's Knitting Ganseys
, it was off the needles on Friday and blocked and dried last night. It will fit Anne in the autumn, so there will be more photos of this sweater to come when it's actually on the child. I used Elann's Devon and had the right gauge, but next time I make a gansey it will be with a true sport or DK yarn. The Devon calls itself a sport weight, but I'm using the left overs for socks, it's really near a fingering weight. I'm still pleased with it and can't wait to see her toddling about in it.
We are going to DC Children's Hospital on Wednesday for the CT scan to find out if the hemangioma has swelled into the eye cavity, then we will see the specialist the following Tuesday. We were to patch the good eye so as to train the bad eye, but she can't even open the bad eye when the good one isn't open. So, no Dread Pirate Anne for now. My boy has a cold and has had to rest most the weekend when we finally get nice weather, so I pulled out some puzzles and checked out Bill Nye episodes from the library. When I lived in Seattle, Bill Nye lived in my neighborhood and I met him at a political event. My parents are friends with a gal who worked on the show and has her own science books and experiments for kids out, and my parents met Bill Nye at her wedding some years back. When I watched the show in the 90's I didn't realize they taped quite a bit of it in Seattle. When I watch it now, my son and I can point out places we've been to. I believe that dinosaur puzzle was a gift to Jonah from a family I babysat for in Lake Forest Park.
I still have a few unfinished things to get going on, but I bought this yarn last summer for a cabled cardigan I put down on graph paper. It's a 12 month size and should fit Anne in the winter. I couldn't wait to start it any longer. There are only a few other things to finish up so I don't feel too bad about it. I whipped out a sleeve last night watching an Inspector Lynley mystery. I would have done more this morning, staying home from church as Jonah's sick, but housework was the sqeakier wheel.