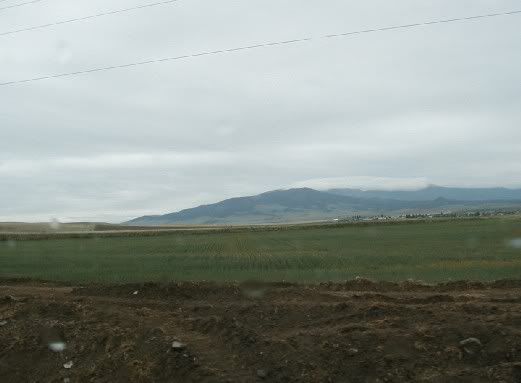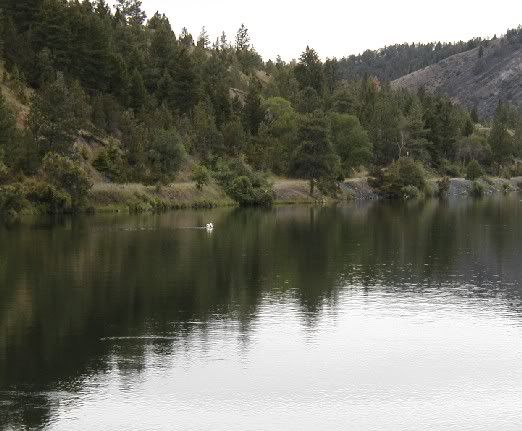 Couldn't zoom in any more, but there's a pelican out there in the last photo. Took the Suburban out on Saturday up a few mountain dirt roads, not much wildlife out in the rain. We passed some areas burned by forest fires, checked out the lower side of the dam where I hopped out in the rain to catch a photo of that pelican. Too wet to hike and I'm glad we decided not to go camping this weekend with the babies, we had pretty heavy wind gusts and thunderstorms yesterday (oh, and Adrian was throwing up all afternoon, poor guy, camping would have been cut short anyway).
We spent the rest of the weekend lazing about, watching PBS programs like
Backroads of Montana
on Deerlodge's Rialto Theater and the Ringing Rocks geological site near Pipestone. Martin's family moved from Wisconsin to Deerlodge, MT in the '90s and recalls the restoration work on the theater. We hadn't heard of the Ringing Rocks, we'll have to go check it out, my husband is particularly keen on it as a geologist.
My eldest child is returning today from Yellowstone with my dad and youngest sister. I've had a few phone calls while they've been away, it sounds like they are having great fun with things like white water rafting and encountering buffalo. I get them home tonight for a quick turn about as they repack for their flight out to Michigan tomorrow, it's Jonah's annual summer trip to my parent's house without the rest of us.