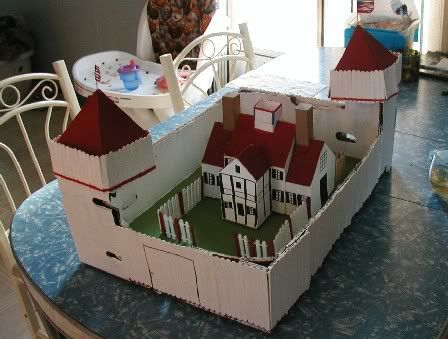 Jonah has been involved with soccer this spring, he's also finished up a Montana history fair project on the Fort Union Trading Post. He turned 10 years old on the 26th (Ten years?!? Where did my baby go?) On the last day of May he came down with chickenpox.
My two youngest are growing even faster, Anne is nearly 2 and a half, and Adrian turns one year old next week. I have no idea how this year has gone so quickly, I know I'm repeating myself but it's such a shock to have one child turn 10 and another turn 1 within just a few weeks of each other. Adrian is nearly walking, he's talking and trying desperately to keep up with his big sister.
I have two giant African violets that have been blooming like crazy the whole month of May. They sit very cheerily on the bathroom windowsill, they make my day each time I see them.
The chalk has come out, and onto little hands, knees, socks, toes (those that refuse to wear socks now that chill has passed)...oh, and onto the pavement near our shed. We've also brought out the wagon, had rounds of bocce on the lawn, weeded the iris patch and started tending to the needs of our very young lilac tree. We are in the early stages of house hunting and putting off gardening plans until we settle into a more permanent location.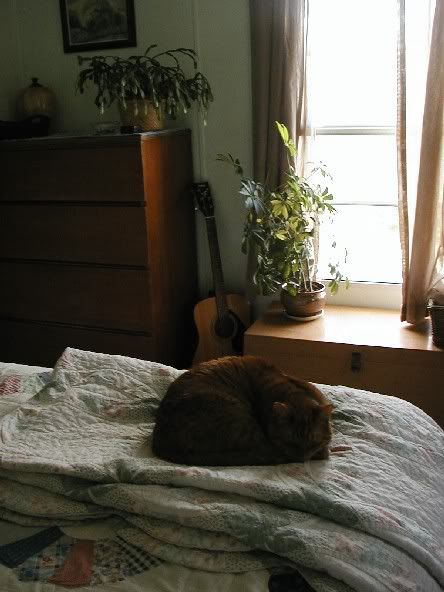 I have been waiting out the longest winter I have ever known, my first Montana winter, ready to open these windows at the very first breath of warm breeze. They are now open, the trees are *just* leafing out, the large lilac in beautiful bloom outside my bedroom window. Many afternoons the two youngest children consent to nap at the same time and I retire to my own bed with orange cat at my feet, windows open to listen to the new leaves rustle and the birds sing and twurtle. Now, if someone would tell them that I'd greatly appreciate it if they'd hold off the song starting at 4am and put it off until maybe 6am. Thanks.